18th November 2020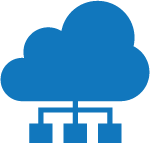 Going Fully Cloud: A Guide for Small to Medium Sized Business
Things have changed so much that whether you are in the office, on the way home from the office or sitting in the coffee shop, having access to your business data always is a must. Cloud computing has changed the way a business operates as it now gives users access to company data wherever they are so long as they have an internet connection. Cloud computing is now the approach to standardising and modernising long-running business needs.
Microsoft 365
Microsoft 365 offers many great services that run on their cloud infrastructure thus making them accessible from various devices like a tablet or mobile on a web browser or with dedicated applications.
Office Web Apps gives you access to Exchange, Word, Excel, PowerPoint, Teams, SharePoint and OneDrive via a web browser while maintaining a like for like feel and having all files on your work device.
Office Mobile Apps like with Web Apps you can download individual apps to have access to Outlook, Word, Excel, PowerPoint, Teams, SharePoint and OneDrive on most smart mobile devices.
Files and folders
SharePoint provides a rich collaboration environment where people inside and outside your organisation can work together, co-authoring documents. Microsoft 365 provides a variety of options to help you create a secure and productive file collaboration environment that meets the needs of your organisation.
OneDrive enables you to synchronise your content to your PC so you can easily and securely access files anytime—even when you are offline.
Security and Data Protection
There are many things that you must take into consideration when deciding to let users access company data outside of "work premises".
How access to data in Microsoft 365 and SharePoint are controlled - Only allow certain users to have access to certain company files.
How accounts, passwords and access rights are to be in administered – Control who can do what outside the office.
How will you back up data – Using a Microsoft infrastructure, Microsoft retention policy is 90 days. There are back up options available that give you unlimited retention for your Microsoft 365 data. Veeam backup for Microsoft 365 is the perfect solution.
How will you monitor and administer an anti-virus solution – Having a managed IT provider means that system monitoring is a problem that is taken off your hands.
Will laptops need to be encrypted in case they are lost or stolen – BitLocker will make sure that if a user loses or has their device stolen encrypted files will not be compromised.
How access from mobile phones and tablets will be administered – Decide who can have access to company files on their mobile phones or tablets. With Mobile device management also implemented you can track employee's activity with company files and revoke access in real time.
Business Applications
Cloud-based CRM A CRM system that is cloud based will give you anywhere/anytime access as there is no need for a traditional on-premises system that can only be accessed during office hours.
There are cost-effective as cloud-based CRM systems operate on a pay-as-you-go model as opposed to the traditional CRM system that required is an upfront expenditure.
Extremely secure because companies of offer a cloud-based CRM take security very seriously they will have advanced automatised backup policies and robust data recovery plans. Security can be further improved by using two-step authentication and strong passwords.
Can be tailored to your needs and there is a high level of flexibility due to cloud-based CRM's ability to be instantly updated.
Cloud-based Accounting system Your company financial records are securely stored and managed 'in the cloud'. This means the records can be accessed at any time and from any device provided it has an internet connection and the correct security credentials are supplied.
Hardware
Laptops are a no brainer for a company that is becoming cloud-based and wants to be agile. Many companies are of course used to the traditional 2 screens with a desktop and this is easily achieved while in office with the use of docking stations for the laptops.
Telephony, Video Calling and Internet
Microsoft Teams allows you to transition your voice calling capabilities to the cloud with integrated calling to landlines and mobile phones. Use Teams for the new age of video calling keeping everything in one place.
Internet Connectivity - With everything relying on the internet now, having business grade connectivity is vital to avoiding any downtime to your business.
Management and Support
Now that you have your cloud-based infrastructure in place, your IT has now been modernised but like everything in life, nothing is perfect. Dealing with the headache when something goes wrong with IT is the last thing you want to be sorting out, be it during working hours or 10PM just as you get ready to go to bed. As a managed IT provider, we will make sure of active monitoring 24/7, patching and ensuring IT is updated and protected always.
Thinking of going fully cloud based? Contact London Systems today for more information.