8th April 2020

Stay Protected Against COVID-19 Scammers
In the wake of the COVID-19 pandemic, cybercriminals are using this as an opportunity to capitalise to seek financial gain in just about any way possible. Many people are fearing over COVID-19 and with the uncertainty surrounding the disease, these scams will look to exploit those fears. COVID-19 spam is very high so now is the time to be extra vigilant with what you see, especially with most people now working from home.
Individuals vulnerabilities are being exploited in a few ways, some of the more notable ways are for example:
Phishing - Phishing campaigns through what look like genuine companies are used to infect computers and extract user credentials, we see this through emails (below examples) and text messages.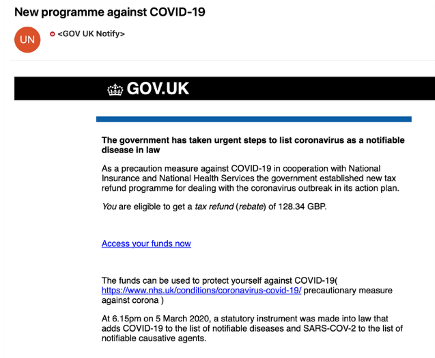 Fraudulent sale of products - People are being tricked into purchasing goods in COVID-19 fraud schemes, products such as masks hand sanitiser which leads to personal information like bank details being stolen.
Misinformation - Misinformation is spread by trolls and fake media accounts in order to create panic which leads to people making poor decisions. Always make sure you double check information from a valid source.
The World Health Organization (WHO) released an advisory about cybercriminals who have been posing as them in an attempt to steal information and money https://www.who.int/about/communications/cyber-security. They said, "If you are contacted by a person or organization that appears to be WHO, verify their authenticity before responding". This should be followed for any contact you receive that may look suspicious from places such as UK Gov, HRMC, Microsoft etc.
The message we want you to get from this is to be extra vigilant with any emails or text messages you receive which are related to COVID-19. Security is pivotal during these unprecedented times so making sure your whole team is aware is key. Stay safe.